Our Staff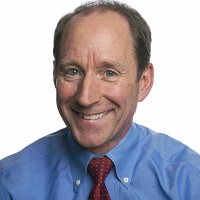 R. Van Ballantyne, EA, MBA, ATP

Van holds a BS in Business Administration from the Whittemore School of Business and Economics and his MBA from Southern NH University. He is enrolled to practice before the Internal Revenue Service as an Enrolled Agent (EA).

Van has spent the last nineteen years as founder and CEO of Counting House Associates. Prior to that, he spent 20 years in private industry as accounting manager, controller, CFO and vice president finance and administration for various businesses in the greater Seacoast area.

Van is always busy! When not working he enjoys walking the beach with golden retriever Koda, spending time at the lake with family and friends and will travel almost anywhere.
---
Michele Drenzek, Accounting Manager
Michele received her degree in Finance and Administration from the University of New Hampshire and went on to hold controller and CFO positions for several seacoast area businesses, most notably the Timberland Company. She left the corporate world to stay closer to home after her son was born and started and operated an accounting and tax practice in Rye NH.
She loves to workout, vacation in warmer climates and, despite a fear of the water loves to walk the beach with her dogs. Her burning desire is to be a singer in a Nashville band... ask and she might sing for you!
___________________________________________________________________________________
Leanne Bourque, Accounting Manager
Leanne received her BS in Accounting from New England College. She also holds an AS in Paralegal Studies from McIntosh College.

Her prior experience includes office clerk, bookkeeper, staff accountant and spent several years working with small business clients on payroll, accounts payable and receivable and quarterly returns. She enjoys going to dance performances and year-round sporting events, loves being outdoors and spending time with her three children.

___________________________________________________________________________________
Lynne Stollstorff, EA, Tax Preparer
As an Enrolled Agent and Master Tax Advisor, Lynne brings to Counting House a wealth of experience in the field of taxation and business management.

She earned a BBA in Administration & Finance from the University of Quebec and has taken accounting coursework at McIntosh College. Her experience includes not only tax preparation but managing a team of 30 professionals at H&R Block. Originally from Canada Lynne lives in Newfields with her husband and son.

---
Donna Dewsnap, Bookkeeper
Donna joined Counting House in 2014 and didn't take long to learn our business systems and procedures. Some of you might know her better as the former owner and operator of the Italian restaurant Rinaldo's in Hampton NH. It was there that Donna learned the importance of a good and clean set of books and accounts as well as great customer service skills. Donna loves her commute (she lives in Greenland) and enjoys tennis and raising chickens.

---
Katie White, Bookkeeper
Katie is our newest bookkeeper and has begun a new career at Counting House. Her background includes years of experience in the health care industry as a physician practice manager, community health liaison for a regional VNA and also as medical secretary.

She holds a BA in social work from the University of New Hampshire and later went on to complete her MBA at The Heller School for Social Policy and Management in Waltham. Welcome Katie!

---
Joey Grattan, Bookkeeper
Joey attended Bryant University and received his BS Degree in Actuarial Mathematics... true story! He returned to New Hampshire after school and worked most recently as a bookkeeper/accountant for Bottomline Accounting in Rye. A native of Portsmouth Joey likes to play and watch sports of all kinds, travel when possible and enjoys the NY Times crossword puzzles.

He hasn't yet attended a NE Patriots Superbowl but hopes to in the next few years ________________________________________________________________________________

Rekha Nomula
We are pleased to have Rekha join our team!

She was raised in India where she worked as an accountant for several years, and after relocating to America she worked as a tax preparer and also was a teller at Citizens Bank (where she was recognized as Best Teller!).

Rekha holds a Bachelor of Commerce in India and lives with her husband and Son in Dover NH. Her spare time is spent reading, time with family and watching Indian movies.

---
Barbara (Barbie) Dunham, Payroll Specialist

After her former employer (ADP) relocated her division to Florida, Barbie decided to find employment locally. Good for Counting House!

With over 10 years experience working with small business payrolls and another 10 years in medical billing, we are pleased she joined our team. ____________________________________________________________________
Donna Consalvi, Payroll Specialist
Donna has a wealth of education in the fields of business management, accounting, and medical transcription.

She has spent her professional career as bookkeeper, clerical specialist and medical transcriptionist.
____________________________________________________________________
Barbara Ballantyne, Administration
Barbara was lured out of retirement by a desire to find a place where she can be helpful and be around co-workers. She is a people person! Barbara's professional career was spent in the elementary classroom where she made a difference in children's lives. She retired with a BS in Education and three (!) masters degrees. She has two grown daughters nearby, two grandchildren, a dog and cat. She leads a full life and enjoys traveling, reading and gardening. Her bucket list is too long to mention but includes walking the Great Wall of China one day.